The results for the 12 months ending 8/31/18 are worth discussing as they are remarkably similar to the results of the prior year (even if my typical commentary focuses on just the past month's results).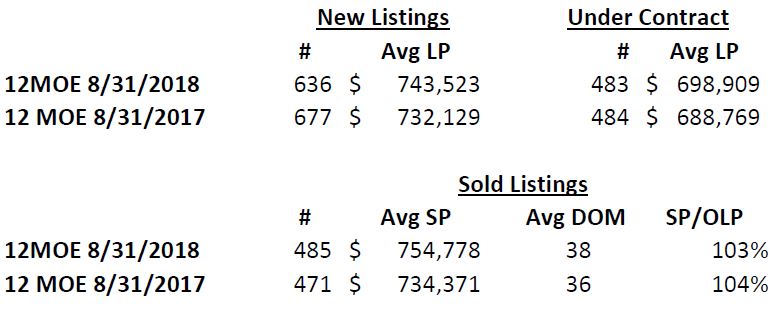 During the past 12 months, the amount of homes under contract was nearly the same at 483 with a $699K average price vs. 484 homes and a $689k average price in the prior period.
The only slight departure from the prior 12 month period was fewer new listings of late, 636 versus 677.
Low numbers of new listings (36 vs. 50 last year) combined with high numbers of under contract homes (95 vs. 63 last year), lead to a low number of active listings at 120 in August vs. 162 last year and 164 in July.
Consider a few opportunistic buying tips to bolster your strategy.
Prioritize Listings that are Difficult to Get in to See
If a property is hard to get in to see for whatever reason (usually limited hours due to owner or tenants wishes), it's hard for other people to see it too, keeping the potential amount of competition more limited. Make room in your schedule for properties like these you are interest in, as others will pass them over.
Consider Listings that Need Work
We are increasingly finding in our experience that buyers are looking for turnkey homes, creating opportunities for homes that need some work or updates.
It can be trickier to finance renovations than a purchase, and you need to manage the process, but if you are willing to take on some projects, you may find a diamond in the rough and quickly build equity in a new home.
Consider Listings that Need Work – Special Situations
HomePath
Houses that are taken over by Fannie Mae are typically offered to owner occupiers before investors through the HomePath program, so get in that window which is typically a few weeks.
Conventional Lenders Requiring Work Completed
Lenders requiring work be done to a home before close used to be common among FHA loans, but has expanded to conventional lenders. Sellers may not have to funds to do the work and buyers may not want to do the work and risk not closing. It's a chance to for you come in offer to do whatever is necessary to close, including repairs and perhaps even tank removals.
Want to discuss more tips?